Ships 3D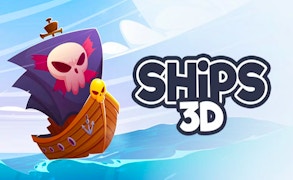 Ships 3D
Sailing is one of the most adventurous activities out there but it also requires a lot of skill which is what Ships 3D tries to emulate. Although we no longer live in the days of the high seas where many folks spent their entire lives on the sea searching for adventure, this game gives us a taste of what that might have been like. However, it focuses mainly on the conflict that certain ships had with each other. The sea is large and dangerous but other ships can be just as big of a threat. You'll need to balance between sailing and fighting to stay afloat.
About Ships 3D
Games about piracy are quite popular since they embody a feeling of freedom and adventure that many don't get to experience. This game may be a simplified version of all that, but the intense feeling of being embroiled in an open-seas battle is quite present. The seas you'll find yourself in are quite crowded so you're likely to encounter many other ships from the movement you set sail. Of course, there is open water and even islands that you can visit, but enemies won't make it easy for you. Either on your own or with your crew will you need to find solid ground on the sea.
How to Play
Ships 3D is an online sailing game where you'll be encountering other rival ships using the mouse and keyboard.
Controls
Cursor - Look Around/Aim Cannon
Left Mouse Button - Attack/Fire Cannon
W - Move Forward
S - Move Backward
A - Move Left
D - Move Right
F - Interact
A/D - Steer Ship/Change Sail Direction
You'll be able to set sail after you enter your name and choose to join the game. Before that happens, you can choose whether to have a Bot to help you on the ship, invite friends, or join another player's crew. The goal is to sail across the seas and to stay afloat as long as you can.
When enemies sight you, they'll open fire with their cannons. As your ship gets hit, holes will open up in the hull letting in water. If too much damage is done, your ship will sink and you'll need to make your way to land or restart. You can choose whether you want to play a free-for-all game or a team game where you'll be assigned a flag. Ships that share the same flag will be allies.
By exploring and defeating enemy ships, you can earn gold. This can be spent on the main menu to buy different kinds of cannonballs. You'll also have access to different ships which will be unlocked as you level up through gameplay.

Tips and Tricks
This is a game where you have to react quickly and always be on guard. Even at the main menu, you'll still be active in the game. Once you set sail, get to open water as quickly as you can to get a better view of your enemies. Stay on the outskirts to avoid getting surrounded.

Game Details
Developer: ASDF Games
Platforms: Web Browser (PC and mobile)
Languages: English
Gameplay Footage
FAQs
Can I play Ships 3D with friends?
The game is made to be played with others online but there is currently no friend or clan system in place. You can sign in with Google to track your progress and change which server you're playing on.
Games similar to Ships 3D
It may be about sailing but with all the prevalent battling, this title fits in the Battle and Simulator Games categories on GamePix. It can be found among other games like Dexomon, Pvpz io, Taxi Simulator, and Train Driver Simulator.
What are the best online games?