Rachel Shopping Day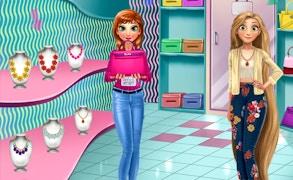 Rachel Shopping Day
For young fashion enthusiasts seeking Games for Girls, Rachel Shopping Day delivers an adventure in style that's hard to resist. Drawing from the timeless appeal of fashion games and dress up games, it sends players on an immersive shopping spree with Rachel, a kind-hearted girl with a knack for finding the season's best sales.
The game begins as Rachel embarks on her quest for the perfect outfit, from shoes to accessories. As a player, you will be endowed with the responsibility of choosing Rachel's attire, making it an engaging option among dress up games. Your fashion skills will be tested as you sift through heaps of stylish clothes showcased by the store staff. It's all about creating the most stunning looks for Rachel that aligns with her unique style.
Rachel Shopping Day offers a unique twist by blending in elements of Hairdresser Games. You can also choose Rachel's hairstyle, adding another layer of creativity to her overall look. Whether you prefer sleek straight locks or bouncy curls, there's plenty for budding hairstylists to play around with.
The charm of this game lies not just in its wide selection of fashion statements but also in its usability. The controls are easy to grasp making it accessible to all age groups. The vibrant graphics and lively soundtracks further enhance the gaming experience creating a fun-filled atmosphere similar to a real shopping expedition.
In conclusion, if you're looking for an interactive game that combines elements of dressing up and hairstyling while stoking your love for fashion, Rachel Shopping Day is a must-try. It is more than just another addition to the list of games for girls; it is a celebration of personal style and creativity!
What are the best online games?