Race Masters Rush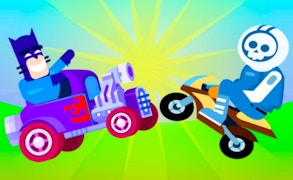 Race Masters Rush
Immerse yourselves in a world that combines car games and gun games, with the thrill of battle and pursuit in the adrenaline-fueled title known as Race Masters Rush. The unmatched fervor of this game is brought to you by Kiz10.com, offering gamers a unique experience they won't soon forget.
Step into the shoes of our pint-sized hero as you navigate through breakneck racing tracks while fending off an onslaught of enemies. This isn't just about being fast on the track; it's about survival, making it a cut above your standard driving games.
As you sit behind the wheel, your heart will race faster than your car with battle games-like intensity. Every lap is a new opportunity to evade ruthless motorbike foes and the ceaseless drone menace. But fear not - your fortitude is rewarded with game-changing power-ups to bolster your vehicle's speed, shield, and firepower.
Your trigger finger will get as much exercise as your driving foot with Race Masters Rush's seamless blend of frenetic shooting action and high-speed chases. Encouraging strategic gameplay, Race Masters Rush is one of those uniquely satisfying gun games, where every shot could mean the difference between victory or defeat.
In conclusion, Race Masters Rush is an exhilarating ride that straddles genres effortlessly, from car and gun games to battle and driving games. It serves up a potent mix of high-octane racing action coupled with no-holds-barred gunfights that will surely captivate any gamer looking for their next virtual thrill.
So strap in, arm yourself, and prepare for a heart-pounding adventure in Race Masters Rush—a game that truly takes action gaming to a whole new level. Happy gaming!
What are the best online games?