Rabbit Zombie Defense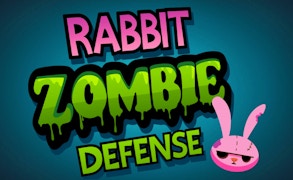 Rabbit Zombie Defense
Enter the techno-bunny wonderland with Rabbit Zombie Defense, a thrilling blend of animal games and spine-chilling zombie games. The game promises an adrenaline-fueled ride that bridges the gap between fluffy cuteness and horror-laden survival.
The premise is simple yet horrifying: a viral outbreak has resulted in our friendly rabbits transforming into terrifying zombies. As the last bastion of hope, your task is to defend your base against these undead creatures using an array of weapons that are as quirky as they are lethal, ranging from harmless carrots to destructive explosives.
Rabbit Zombie Defense starts you off with an interactive tutorial, allowing you to learn the ropes in a hands-on manner. You'll soon master the art of zombie slaying with fruits, vegetables, tennis balls and more. The game injects fun into the undead apocalypse with its cute and scary zombie theme, blending two disparate worlds seamlessly.
An impressive variety of enemy types keeps things fresh - five different zombie breeds challenge your adaptive skills. Furthermore, Rabbit Zombie Defense offers unlimited gameplay for relentless survivors. The persistence pays off as there's a shop to upgrade your armament and unlock new defenses. Remember - strategy and quick reflexes are key in this addictive fusion of animal-themed action and zombie survival.
In conclusion, whether you're drawn by the playful aesthetics of animal games or the intense thrill of zombie games, Rabbit Zombie Defense bridges these genres effortlessly. Its creative weapon system adds humor to an otherwise dark scenario, while its unlimited gameplay ensures that you're always on your toes. A must-play for any action game enthusiast!
What are the best online games?
TAGS