Quevi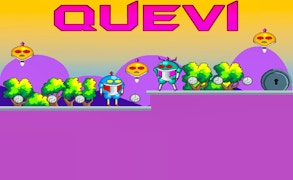 Quevi
Description
Embark on a thrilling 2D adventure in Quevi, a sci-fi themed platformer with escalating chaos. You're tasked to gather all metallic orbs on your path, while outmaneuvering menacing enemy robots, airborne adversaries, rotating lasers, and gigantic blades. Advance through 8 levels of increasing complexity to reach the ultimate goal - the exit door.
How to play
Easily navigate your character with either the "WASD" or "Arrow" keys. Execute swift leaps and cross tricky terrains using the double jump control - simply press the "W" or "Up" arrow key twice quickly. Survive each level's trials and triumphantly walk through that exit door to progress to an even tougher stage.
Tips and Tricks
Keep moving! Standing still makes you an easy target for enemy robots and lasers. Always be ready to execute a double jump, it can save you from numerous hazards. Remember, collecting every metallic orb isn't necessary but could lead to bonus perks.
Features
Vibrant 2D graphics: Enjoy engaging visuals with a sense of depth.
Diverse Enemy Types: Outsmart various robot adversaries with unique behaviors.
Intricate Levels: Navigate through carefully designed stages filled with traps and surprises.
Innovative Power-ups: Use helpful power-ups that might tip the scales in your favor.
User-friendly Controls: Experience smooth gameplay with intuitive controls.
What are the best online games?