Puzzle Guitar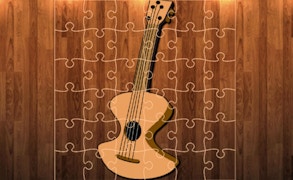 Puzzle Guitar
Embark on an exhilarating journey of melody and challenge with the stimulating game, Puzzle Guitar. This unique fusion of music games and intense jigsaw puzzles renders an extraordinary gaming experience, especially earmarked for those young at heart. Games for Kids, they can be enjoyed by individuals of every age group, painting the colors of fun and learning on the canvas of leisure time.
Dive headfirst into the immersive world of Puzzle Guitar - a realm where enchanting beats meet brain-bending puzzles. Crafted with precision and passion, this jigsaw puzzle game offers a refreshing spin on traditional puzzle-solving. Whether you're a newbie entranced by the magic of music or a seasoned veteran looking for a new challenge, Puzzle Guitar is bound to captivate your senses.
The beautiful nuance lies in its simplicity combined with diversity. Each level promises unique features that drive an element of surprise and intrigue, making it not just another routine puzzle but a challenging masterpiece. The game offers varying levels of difficulty, allowing players to choose their battle according to their skill set. The greatest reward lies in wholeheartedly focusing on puzzle-solving that truly makes it the ultimate puzzle challenge.
In this digital era where gaming is not merely seen as a source of entertainment but also as a tool for learning and development, Puzzle Guitar seamlessly blends cognitive enhancers with immense fun. Catering largely to audiences who find joy in music games while seeking intellectual stimulation from puzzles, this game stands out from its counterparts.
The exciting journey of chord-strumming interwoven with jigsaw challenges makes Puzzle Guitar an unbeatable choice for those seeking more than ordinary games. A must-try masterpiece for every game lover out there!
What are the best online games?