Friday Night Funkin' Big Brother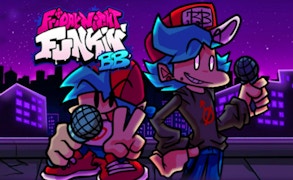 Friday Night Funkin' Big Brother
Get ready to rock your gaming world with the latest addition to the Arcade genre, Friday Night Funkin' Big Brother. If you're a fan of music games, skill games, or just appreciate good, fun games, this electrifying installment promises a rhythmic rollercoaster that will surely keep you on the edge of your arcade chair.
Immerse yourself in the vibrant universe of Friday Night Funkin', where your sole aim is to master the dynamic ritual of music. Take the spotlight as you press those game buttons at just the right time and unleash an extraordinary symphony. Witness how every perfect hit pumps up your score, evoking a thrilling sense of competition that only good music games can deliver.
Friday Night Funkin' Big Brother, like all engrossing skill games, requires quick reflexes, sharp focus, and relentless dedication. Every stage ups the ante with faster beats and more complex sequences that will turn even hardcore gamers into finger-tapping maestros. But don't worry, this captivating challenge enhances not just your coordination but also your rhythm and timing – proving why it stands out among other fun games.
This intriguing escapade brings you face-to-face with well-loved characters from the original saga. With Big Brother leading the pack, accompanied by fan favorites like Boyfriend and many others, you're in for a fun-filled reunion that's both familiar and fresh. So buckle up for an exhilarating ride filled with booming beats and dynamic gameplay in this new chapter of one of the best arcade series around.
To sum it up, whether you're a seasoned gamer or just dipping your toes into the fascinating world of arcade gaming, Friday Night Funkin' Big Brother offers an unforgettable experience that perfectly blends music, skill, and fun into a compellingly rhythmic gameplay.
What are the best online games?