Putot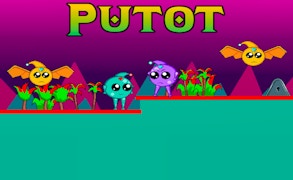 Putot
Description
In the captivating world of Putot, players traverse a 2D realm filled with challenging obstacles and mystifying treasures. Each level is teeming with animated threats like hostile aliens and airborne creatures. Your task: to secure the treasure-laden cubes and make it safely out through the exit door. With increasing difficulty at each stage, only the bravest adventurers will conquer all 8 levels.
How to Play
Mastery of the controls is key to survival in Putot. Use the "WASD" or "Arrow" keys for navigation. The quick maneuver of double jump, achieved by pressing "W" or "Up" arrow twice, can help you avoid danger and reach unreachable places. Be careful though, each level offers a new set of challenges and obstacles.
Tips and Tricks
Play it smart, learn enemy patterns as it helps in predicting their moves for better evasion. The double jump is useful not just for avoiding enemies but also for finding hidden cubes containing treasures. Remember to always aim for exit door after collecting all cubes.
Features
Action-packed Adventure: Navigate through various challenging environments filled with menacing monsters.
Treasure Hunt: Uncover hidden treasures within each unique platform level.
Evolving Difficulty: Experience an increasing difficulty curve as you progress through the game's 8 levels.
Precision Controls: Masterful control of your character's movements is key to success in Putot.
What are the best online games?