Push Out Colors Game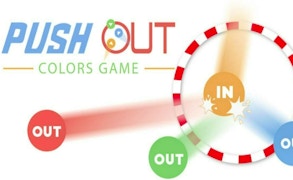 Push Out Colors Game
Prepare to step into the colorfully vicious battle arena with Push Out Colors Game, an energetic foray into fast-paced new-age action gaming. This pulse-pounding addition to the realm of 2 player games and skill games refines its genre with a unique blend of strategy, speed, and skilful maneuvering.
At its core, Push Out Colors Game is a battle royale in its purest sense, with up to 4 players wrestling for supremacy within an ever-shifting arena. The concept is simple, yet intensely engrossing - your dot, spinning around itself in a hypnotic dance of color, waits for your command to leap into action. When you push the button, it lunges straight ahead in a fearsome charge geared towards scattering your opponents' dots and pushing them out of the arena.
The successful execution of this ferocious push-and-thrust gameplay mechanics is a testament to the brains behind this magnificent battle game. Scoring points by pushing your opponents out of bounds offers endless fun and challenges that players will find hard to resist. It is a test of skill and reflexes that will have you hooked from the get-go.
The beauty of Push Out Colors Game lies in its deceptive simplicity - each round delivers an adrenaline rush that could rival any AAA title on the market. Its innovative approach transforms traditional 2 player games and skill games into something truly special – a testament to how challenging and addicting they can be.
In conclusion, if you're wondering whether it's worth dipping your toes into the vibrant world of Push Out Colors Game – don't hesitate! It's time to play! Challenge yourself and embrace this irresistible call to arms with gusto!
What are the best online games?