Purple Monster Adventure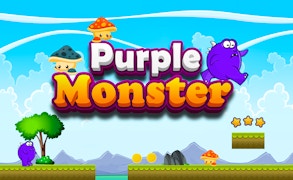 Purple Monster Adventure
Description
Welcome to Purple Monster Adventure, an exciting platform game where you embark on a thrilling journey as a cute, loveable monster! Navigate through the magical valley full of challenges, conquer various obstacles and battle the mushroom enemies that stand in your path. It's not just about survival, but also about strategizing and skillfully progressing to the end.
How to play
To play, use the arrow keys or swipe gestures to move the purple monster across platforms. Your mission is to safely traverse through the enchanted valley. Jump over obstacles, dodge threats, and take down mushroom enemies using your skills. Remember, each level gets progressively difficult so strategize your moves wisely.
Tips and Tricks
During your adventure, keep an eye out for hidden paths and power-ups. They can greatly help you overcome tougher opponents and obstacles. Mastering timing of jumps is crucial especially in higher levels where platforms start moving or disappearing. Lastly, experiment with different strategies for defeating mushroom enemies.
Features
Different Levels: Overcome new challenges as you progress through each level.
Intriguing Enemies: Encounter a variety of mushroom enemies with different abilities and strategies to defeat them.
Spectacular Environment: Experience an enchanting valley filled with vibrant graphics and striking designs.
User-Friendly Controls: Simple and intuitive controls make gameplay smooth for players of all ages.
What are the best online games?
Tags