Princy Throat Surgery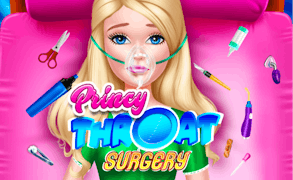 Princy Throat Surgery
Immerse yourself into a world of responsibility, precision, and thrill with the remarkable Princy Throat Surgery, one of the most innovative and engaging games for girls. With an enthralling storyline and an unexpected twist, it's more than just another addition to the crowded genre of operation games.
Our beloved beauty Barbie, adored by millions, has landed herself in a rather uncomfortable spot. Having indulged in a copious amount of ice cream at her birthday party, she has contracted a severe throat infection. And here's where our young doctors step in - could you lead the surgery to save our darling Barbie?
This game does not merely entertain; it educates. It teaches kids about the importance of good health and hygiene habits while providing a delightful insight into medical procedures - all within the comforting familiarity of Barbie games.
The attention to detail within Princy Throat Surgery is commendable. The interactive game-play ensures an immersive experience as players navigate through the intricate procedure of throat surgery. The detailed graphics add to the overall appeal making this one of those standout Princess Games.
Yet what really sets Princy Throat Surgery apart is its perfect blend of challenge and enjoyment. It captivates its young audience, providing just enough difficulty to keep it interesting without making it frustratingly hard.
In conclusion, Princy Throat Surgery is not just another game—it's an experience that combines learning with entertainment. A must-try for all fans of games for girls, especially those with a soft spot for operation games, barbie games, and princess games.
Our verdict: An absolute delight! Let your child dive into this exciting world of medical missions with Princy Throat Surgery.
What are the best online games?