Princesses Halloween Fashion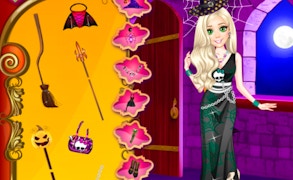 Princesses Halloween Fashion
Welcome to the enchanting world of Princesses Halloween Fashion, a gaming experience that melds the laughs and chills of Halloween with the glitz and glamour specifically designed for Games for Girls. Drape yourself in the beauty of this spellbinding game that impeccably marries elements of Princess Games, fashion games, and dress up games all rolled into one spectacular adventure.
Say goodbye to dull moments as October ushers in a sparkling, spooky challenge. Princesses Halloween Fashion catapults you into the realm of our adored princesses anxiously awaiting their yearly Halloween soiree. If your fingers tingle with delight at the thought of spinning a dash of horror into royalty, this game will whisk you away on a thrilling quest.
The scariest clothes are now your canvas, and creativity, your only limit. Will our princesses don regal gowns with an eerie twist or will they swap their tiaras for witch hats? Are you ready to infuse high fashion with spine-chilling designs? It's all up to you, and that's part of what makes this game incredibly engaging.
Specially optimized for girls who adore both fashion games and Halloween parties, Princesses Halloween Fashion is no ordinary dress up challenge. Even beyond its stunning interface, it offers an immersive experience that pushes the boundaries of traditional princess games.
In conclusion, if ever there was a perfect blend between whimsical princess stories and dress-up magic sprinkled with a dose of Halloween spirit, it is Princesses Halloween Fashion. Crafted thoughtfully for our darlings who love enchanting girlish adventures, this game sets the norm in Games for Girls. It's not just about dressing up; it's about thrill, creativity, and non-stop fun!
What are the best online games?