Princess Valentines Party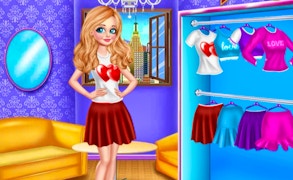 Princess Valentines Party
Immerse yourself in the vibrant and captivating world of Princess Valentines Party, a prime choice for those who adore games for girls. This titillating new entry in the realm of dress up games and fashion games is a definite must-play this season. Enjoy the piquant blend of elegance, style, and creativity that it brings to the table.
The game revolves around beautiful princesses eagerly preparing for their Valentine's Day Party. Their eagerness is infectious! As a player, you're not just an outside observer; you play an integral role in shaping their grand entry to the party. Your mission? To help these princesses dazzle everyone with their gorgeous outfits.
Princess Valentines Party showcases stunning visuals, vivid color palettes, and exquisitely detailed clothing options. It's more than a dress-up game; it's a highly engaging fashion designer simulation that stimulates your creative instincts like never before.
If you're craving even more creativity, this game also doubles up as one of the popular Hairdresser Games. Players can experiment with various hairstyles and hair accessories to complement their chosen outfits. The sky's the limit when it comes to creating unique looks for each princess!
The charm of Princess Valentines Party lies in its simplicity and its focus on creativity. It allows players to explore different facets of fashion in an interactive and entertaining way. The combination of fun gameplay and educational values makes this game stand tall among its peers.
The energetic atmosphere, colorful graphics, interactive gameplay elements, combined with an easy-to-use interface make Princess Valentines Party an irresistible adventure in the world of fashion games. Whether you're an aspiring fashionista or simply looking for some fun dressing up gaming experience, this game will have you hooked from the get-go.
In conclusion, if there's one addition to your library of dress up games, make it Princess Valentines Party. It's fashion-focused fun at its finest!
What are the best online games?