Princess Maid Academy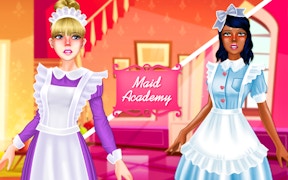 Princess Maid Academy
Description
In the enchanting game Princess Maid Academy, you are in charge of training highest class maids for your princess who is always occupied with royal engagements. From a plethora of clothing and styling options ranging from traditional maid outfits to chic modern designs, you need to ensure your maid's attire complements that of the princess. Add a touch of color to the traditional black and white uniforms, and garnish with an essential apron. The ultimate goal is to choose the most elegant and meticulous maid for your palace.
How to play
Playing Princess Maid Academy is simple and intuitive. Using your mouse or touch-screen, select from various clothing and accessories choices that appear on the screen. Seamlessly transition between different styles until you find what suits best for your desired look. Progress in the game by continuously upgrading your maid's outfit and accessories as per your princess' needs.
Tips and Tricks
Mix and match different styles but always remember the classic maid uniform aesthetic - it's all about balancing tradition with fashion. Touches of colors like pink, blue or lilac can make the outfit pop! But remember, a tidy white apron symbolizes diligence so do not forget to include it!
Features
Elegantly designed interactive fashion-based gameplay.
An extensive wardrobe full of diverse fashionable outfits.
Plethora of colors and accessories to make your maid look impeccable.
Play at your own pace, with no time limits or scores to worry about.
What are the best online games?