Princess Kawaii Swimwear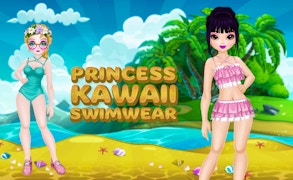 Princess Kawaii Swimwear
Description
Dive into the fun world of 'Princess Kawaii Swimwear'! This game takes you on a colorful seaside adventure where you're tasked with picking out the most stylish kawaii swimsuits for the princesses. The game features a vibrant selection of cute swimsuits in delicate, pastel tones that would suit any young girl's taste. Select your favorite swimwear from an array of choices and let the princesses glow and shine at the beach this summer!
How to play
To play, simply use your mouse or touchscreen to navigate through different fashion menus. Click or tap on the swimsuit design that catches your eye and apply it to your chosen princess. The game encourages creativity and offers players the chance to mix and match various styles until they find their perfect beach look. Enjoy this easy-to-play game with its interactive interface.
Tips and Tricks
Explore all options before making a final choice! The wide range of kawaii swimsuits might seem overwhelming at first, but take your time to consider all styles and combinations. Consider matching accessories, they can add an extra touch of flair to your chosen outfit!
Features
Vibrant and cute kawaii-themed graphics.
An array of stylish swimsuit designs to choose from.
Addictive gameplay that fosters creativity.
User-friendly interface suitable for girls of all ages.
What are the best online games?