Princess Foot Doctor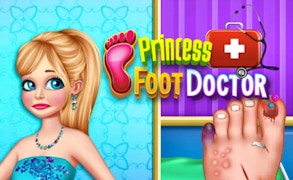 Princess Foot Doctor
Settle in, young gamers, for a delightful adventure in the captivating realm of Princess Games. We are diving into the colorful and enchanting world of 'Princess Foot Doctor', a unique fusion of operation games and learning games, tailored specifically for our female audience, hence making it one of the exciting games for girls.
The tale is as heart-rending as it is fascinating. Our dearly beloved princess stumbles upon an unexpected predicament, a severe foot infection - much to our dismay, causing her immense pain. It is here that your journey begins - steeped in empathy and fuelled by the urgent need to alleviate her suffering.
'Princess Foot Doctor' strikes a beautiful balance between being entertaining and educational. It thrusts you into an empathetic role where you find yourself elbow-deep in royal foot care issues. You're not just playing; you're learning about handling infections and injuries with tender love and care. Revel in becoming a savior, helping our princess recover from her sudden affliction.
This game expertly weaves in elements of creativity too! Post operation, bask in an exciting decorating session to adorn the princess's foot with vibrant accessories and stunning shoes. This added aesthetic appeal elevates the game from being just another operation game.
In conclusion 'Princess Foot Doctor', exceeds expectations by brilliantly combining elements of learning, empathy, creativity and downright fun! Making it not just an ordinary 'game for girls', but a 'must-experience' journey that stimulates both your heart and mind. Dive right into this royal venture – because the princess needs you!
What are the best online games?