Princess Fashion Salon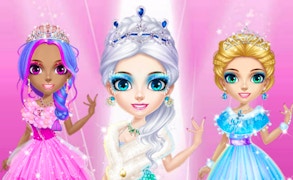 Princess Fashion Salon
Welcome to the enchanting world of Princess Fashion Salon, an unparalleled gaming experience in the realm of Games for Girls and one of the most majestic Princess Games on the market. Step into a fairy-tale winter wonderland, guiding our royal protagonist through her dazzling journey to hold a dance party in her palace, with the first snowfalls gracing her kingdom.
In this immersive voyage into haute couture, each player is also the personal stylist, tasked with transforming our busy princess into a breathtaking snow princess for the upcoming gala. This innovative game effortlessly combines elements of fashion games, dress-up games, and even ventures into the coveted realm of Hairdresser Games and makeup games.
The luxury dressing room becomes your canvas as you delve deeper into the intricate artistry that is high fashion. As vivid as it is interactive, Princess Fashion Salon stands out amongst other girls' games with its unique emphasis on creativity and attention to detail.
Your mission also extends to decorating the palace in a snow theme to match our princess's stunning outfit. Each garment, accessory, and piece of furniture carries its own story, allowing players to create their own version of this icy extravaganza.
In Princess Fashion Salon, strategy meets style in an elaborate spectacle of color and glamour. This game serves as an avenue for young players to explore their artistic instincts while immersing themselves in a narrative filled with royal obligations and extravagant celebrations. The fabulous graphics render every sequin on each gown and every flake falling outdoors with meticulous detail.
In conclusion, Princess Fashion Salon is more than just a glowing addition to your game collection; it's an irreplaceable testament to ingenuity and style that sets new standards in girls' gaming industry. Perfect for all fashionistas who appreciate drama, glamour, beauty combined- it's not just a game; it's revolutionizing girlhood one snowfall at a time.
What are the best online games?