Prince and Caged Princess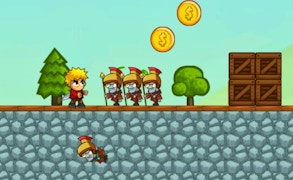 Prince and Caged Princess
Delve into the enchanting world of medieval fantasy adventure with Prince and Caged Princess, a game that expertly combines elements of knights games and skill games into a captivating gaming experience.
The premise is as simple as it is compelling. You are the prince, valiant, brave, and on a mission to save your princess from her nefarious captors. The quest isn't just about sheer power; it's also about finesse, strategy, and showing off your gaming prowess in one of the most challenging knight games ever.
In each level, you'll encounter orcs and other fearsome enemies that you must vanquish in thrilling combat sequences. But strength alone won't get you through; this is one of those skill games where your tactical acumen will be tested to the fullest. Every move must be calculated; every strike timed perfectly to bring down your foes in this electrifying adventure.
Whether you're weaving through a horde of enemies or fighting one-on-one with an orc chieftain, you'll find yourself wholly immersed in the gameplay. And remember those coins scattered across the game? They aren't just for show. Collecting these coins will provide you with the resources needed to upgrade your equipment and abilities, thus helping you advance further into the game.
Prince and Caged Princess is not just another addition to knight games or skill games - it's an amalgamation of the best elements of both genres. It offers players a comprehensive, richly detailed gaming experience that will keep them on their toes from start to finish.
If medieval adventures call out to you, then this captivating blend of knight-themed excitement and skill-based gameplay should not be missed. Slip on your helm, ready your sword, because Prince and Caged Princess awaits!
What are the best online games?
Tags