Poopieman Voodoo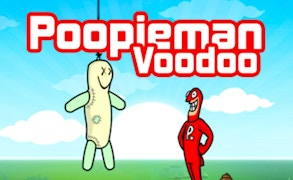 Poopieman Voodoo
Prepare to dive into a world where humor takes the front seat, as you delve into the riveting action game, Poopieman Voodoo. Kiz10 brings this exceptional piece in the vast array of fun games to your screen at no cost. Free to play and extraordinarily enjoyable, it's an essential addition to your gaming catalog.
The game is a modern twist on the classic poopieman game, upping the ante with its engaging missions, intriguing storylines, and a unique approach to action gameplay. Poopieman Voodoo challenges your conventional gameplay methods and pushes you towards mastering unusual ones- using poop as ammo!
Half the fun in Poopieman Voodoo lies in its main character. This whimsical protagonist keeps you entertained with his antics while leveling up your laughter stats. The tasks assigned are equally entertaining; aiming at an innocent doll tied unsuspectingly and bombarding it with every piece of 'ammunition' you have.
But don't be fooled by its seemingly light-hearted nature. This game does not shy away from testing your abilities. It firmly belongs in the arena of skill games, where you are pushed to constantly improve your aim whilst navigating through each level.
Your mission should you choose to accept is destruction at all costs! Exhaust all possible ways of wrecking havoc on that little doll and clear all missions one by one. All these elements combined make Poopieman Voodoo an engaging action-packed adventure.
This distinct blend of amusement, action, skills makes Poopieman Voodoo more than just another fun game. It is a testament to Kiz10's ability to innovate within well-trodden genres and deliver unique experiences that keep players coming back for more.
In summary, if thrilling gameplay, side-splitting humor and skill enhancement are what you look for in games then don't think twice! Head over now and play Poopieman Voodoo for free on kiz10 for an unparalleled gaming experience that keeps you hooked till the end!
What are the best online games?
Tags