Pony Pet Salon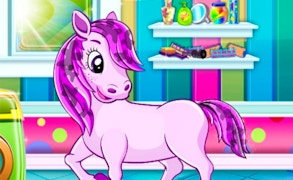 Pony Pet Salon
With a harmonious blend of cutesy animal games and ingenious hairdresser games, Pony Pet Salon is a standout in the realm of kids' gaming. It appeals to both the creative and the nurturing instincts, capturing hearts with its adorable pony skins. This captivating game also integrates dress-up games and horse games into one compact package, creating an enchanting experience for young players.
The first feature you'll notice is the game's amazing graphics. It's reminiscent of taking a stroll through a dreamy, pastel-colored meadow where magic exists freely and ponies are your best friends. The visual appeal directly talks to the aesthetic sensibilities of kids, keeping them engaged as they navigate through this whimsical world.
Pony Pet Salon stands out amongst animal games because it doesn't just let your child play with cute ponies but also test their creativity as little hairdressers. The innovative touch of Hairdresser Games is what makes it unique. Kids can dress up their favourite pony characters, style their manes in countless ways to express individual style – an engaging feature that is sure to keep kids hooked.
This game becomes even more interesting by incorporating elements from dress up games. Like having a personal pony fashion show, where every player has access to a vast wardrobe filled with vibrant costumes and accessories - letting kids create their own unique styles.
In conclusion, if your child loves animals or imaginative play, Pony Pet Salon is an absolute must-have. By seamlessly integrating elements from horse games to hairdresser games and dress-up games within one beautifully designed package, it offers endless amusement – making it not just a game but an adventure for kids to explore!
What are the best online games?