Platform Jumper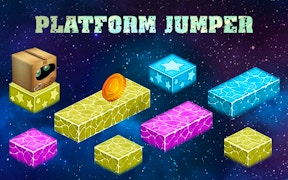 Platform Jumper
Welcome to the extraordinary realm of arcade gaming where the exciting world of Platform Jumper, the newest sensation in Skill Games, awaits you. In this electrifying infinite game, space is endless and the only limitation is your very own skill.
Designed to test both your reflexes and resilience, Platform Jumper holds a high place among the popular genres of clicker games and tap games. Each tap takes you an inch closer to a new high score, making it a perfect combination of thrill and challenge. This interactive game has redefined simplicity, proving that classic arcade fun continues to rule our hearts despite being wrapped up in modern pixels.
The main objective is fundamentally simple - climbing upwards, jumping from one platform to another while collecting points along your way. The concept may sound straightforward but let me assure you, each leap will require precision and timing. One wrong tap might end up costing you your earned points. It's not just about climbing; it's about how far you can get?
Mimicking a digital version of block towers from our childhood, Platform Jumper is a frontrunner in block games. The challenge gradually intensifies as you ascent higher amidst the vibrant game aesthetics. The quirky sounds accompanying each jump amplify the entertainment value.
Labeled as an infinite game due to its persisting nature, Platform Jumper provides an unending stream of enjoyment for both casual gamers and arcade enthusiasts alike. With each new milestone reached comes unmatched satisfaction and the burning desire to top it!
If you're in search for that perfect blend of excitement steeped with nostalgia, then step right into Platform Jumper - an irresistible journey upwards!
What are the best online games?