Pizza Clicker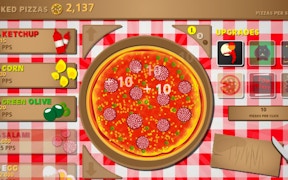 Pizza Clicker
Everybody loves pizza and the people who don't are missing out on something that brings so many people together and want to be a part of the process in Pizza Clicker. This 2D clicking game is all about making pizzas at the drop of a hat and many folks would probably never leave their homes if making food was that simple. You have the base of course, but then you've got to worry about getting all the right toppings in the right combination that makes it so that anyone can enjoy what's being baked. Just make sure you deliver on quality.
About Pizza Clicker
Clicking games is one of the most common kinds of games out there simply because all you need to do is click. It's such a small and fast action that most of us do without even thinking about it and to its credit, games like this one focus on that. You're more concentrated on what's happening in the game than the actual clicking itself which becomes more and more automatic as time goes on. Even as you buy things that click for you, your clicking is an essential part of the game's success and progression so you'll want to keep doing it as long as your fingers will allow.
How to Play
Pizza Clicker is a 2D clicking and idle game about making pizzas using the mouse. You can click the left mouse button on the pizza in the center to make pizzas and then click on the upgrades to the left and right of the screen to improve your pizzas. All you're trying to do is make as many pizzas as possible as quickly as possible.

Each upgrade you buy will improve the amount of pizzas that you make. However, you need to make plenty of pizzas in order to buy upgrades like toppings which change how your pizza looks. The upgrades on the right will change how your pizzas get out into the world allowing you to make even more pizza. You're aiming to have the most dense and efficient pizza-baking operation around.

Tips and Tricks
Depending on your clicking prowess, you can benefit from holding the mouse in place and clicking with your best finger. Always aim to buy the higher upgrades first and then work backward to watch the pizza flow into your pizza bank. Each upgrade empowers your clicking so that will always be a strong contributor.

Game Details
Developer: Spherical Periwinkle (FGL Indie Showcase)
Platforms: Web Browser (PC and mobile) and Android
Languages: English
Gameplay Footage
FAQs
Is Pizza Clicker a free game?
On all the platforms that it's available on, this game is free to play and download. There are also currently no in-game purchases for either version.
Games similar to Pizza Clicker
Since this game is about food and about clicking, you can find it in the Cooking and Clicker Games categories on GamePix. Other games in these sections include Pizza Maker, Ice Cream Maker, Food Empire Inc, and Super Drive Ahead.
What are the best online games?