TenTrix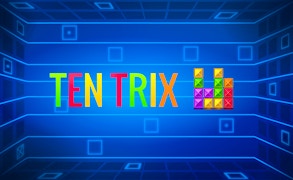 TenTrix
You never know what games are going to be timeless until enough time passes and Tetris has achieved that status while spawning successors like TenTrix. It was the simplicity of building blocks together that made it appealing while reaching both serious and casual players. The gameplay has been recreated numerous times but typically maintains the trademark colorful blocks in their distinct arrangements. This game gives you a selection of blocks to put together as you see essentially giving you more options while applying new restrictions. Even so, the spirit of Tetris is alive and well both on PC and on mobile.
About TenTrix
For those familiar with Tetris, this game could be seen as a toned-down version. It has all the puzzle and strategy mechanics of its predecessor while putting less pressure on you. The combination of falling pieces with the catchy music can make Tetris tense, but here the tension is mainly caused by your own moves and strategy. You never know what arrangements you're going to get but you always have a selection so you can build wherever you want on the grid. The decisions you make essentially determine the gameplay since the more creative your structuring, the more you can play the game.
How to Play
TenTrix gives you control of arrangements of blocks that you can lay on the free spaces of a 10x10 grid. Your available pieces appear at the bottom of the screen, and you'll always receive a selection of three. To place a piece, click and drag the piece you want, then let go of the part of the grid you want to place it. After all three have been placed, you'll get three new pieces. The pieces can take multiple shapes.
Possible Shapes
L Shape
Line Shape
Square Shape
Small L Shape
You can't rotate any of the shapes as their rotations will be determined beforehand. The goal is to place pieces creatively to make full horizontal or vertical lines across the grid which will then be removed and converted to points. The game ends when there are no possible moves left to make and you're always aiming for a higher score.
Tips and Tricks
Since you can't rotate the pieces, think very carefully as to how their placement will affect the grid. Fill up the corners if you can so you can leave as much of the center as open as possible. Line pieces should be saved for the sides of the grid.
Game Details
Developer: Alexey Pajitnov (creator of Tetris)
Platforms: Web Browser (PC and mobile)
Languages: English
Gameplay Footage
FAQs
Is this game similar to TanTrix?
Despite the similar names, TenTrix and Tantrix are two very different games. The latter involves arranging hexagonal pieces on a board to match up colored lines and was created by Mike McManaway of New Zealand.
Games similar to TenTrix
Due to its relation to Tetris, this game is found in the Puzzle and Addictive Games categories on Gamepix. These selections reveal titles like 10x10, Zoo Boom, Helix Blitz, and Knife Smash.
What are the best online games?