Pixel Coloring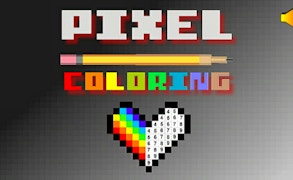 Pixel Coloring
Welcome to the enchanting world of Pixel Coloring, one of the freshest additions to the pantheon of coloring games that perfectly marries the captivating charm of pixel art with logical puzzle-solving. This is not just one of those regular Games for Kids. It's an imaginative concoction of creativity and wits, designed meticulously for all, budding artists and experienced gamers alike.
Step into a delightfully digitized universe where you get to tweak and modify a multitude of retro pixel art. Before you know it, you'll be lost in a grid of small squares, each awaiting your magical touch. Pixel Coloring is not just a game but an odyssey that expands the boundaries of conventional coloring games, promising an experience that's as educational as it's entertaining.
The design interface is wonderfully intuitive, all revolving around choosing your favorite colors and filling them in the numbered squares. The joy lies in the simplicity - it's addictive! As a standout among other drawing games, this game proves that sometimes less is more.
Pixel Coloring transcends the realm of ordinary coloring activities to become a phenomenal tool for polishing cognitive skills and hand-eye coordination. It reaffirms its place among tailor-made pixel games, ensuring kids learn while they play.
In conclusion, if you're looking for something interactive yet relaxing, challenging yet rewarding, make no mistake: Pixel Coloring hits all those marks with ease! Experience it today and unravel your creativity with pixels; let every square brim with color as you master this enchanting game. After all, who knew filling numbered squares could be such a riot!
What are the best online games?