Pistol & Bottles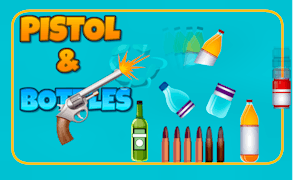 Pistol & Bottles
Description
In Pistol & Bottles, you are an expert marksman tasked with shooting down as many bottles as possible within a given time. Precision and speed are key in this adrenaline-pumping game. Be prepared to test your accuracy skills while battling against the ticking clock.
How to Play
To play, move your mouse cursor to aim at the bottles and left-click to shoot them. As you progress, the challenge heightens, and bottles will start moving more unpredictably. Remember, faster shots earn you more points!
Tips and Tricks
You need to balance speed with accuracy - Shooting fast might give you more points, but missing a bottle could cost you dearly. Also, take note of the bottle's movement pattern, it could help improve your hit rate.
Features
Intuitive interface that ramps up in difficulty as you progress.
Different kinds of bottles with varying motion patterns to keep you on your toes.
A real-time scoring system that keeps track of your performance.
Engaging sound effects and visuals for an immersive shooting experience.
What are the best online games?
Tags