Pick Crafter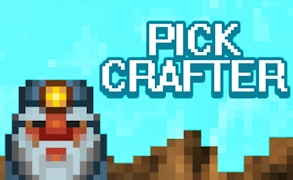 Pick Crafter
Join me on a pixel-powered journey through the extraordinary world of Pick Crafter, a phenomenal fusion of clicker games, tap games, idle games, and pixel games. Let's dig a little deeper into this multifaceted mine of fun.
Enter the cubed cosmos of Pick Crafter, an immersive arcade game bursting with enticing elements and entrancing environments. As an idle mining and crafting clicker game, Pick Crafter lets you bridge the gap between reality and the virtual mining adventure that awaits. Just begin clicking to dig your way into an engrossing experience filled with pixelated perfection!
Every tap in this tap game feels like a gem in itself as you use your trusty pickaxe to delve into the dynamic worlds of Mine Tap Biomes! Whether you're hunting for rare gems or merely chipping away at blocks, there's always something captivating just beneath the surface. With each discovery, you'll find yourself rapidly tapping away to collect gear, upgrade pickaxes, and unearth treasures hidden within these virtual mines.
The adrenaline rush intensifies as you use distinctive abilities to claim your digital bounty faster than ever before — digging for diamonds has never been so thrilling! Playtime becomes discovery time in this captivating clicker game where each excavation brings forth new treasures and surprises. The joyous journey of hunting down every single block is a testament to this game's compelling design.
With its vibrant visuals and gripping gameplay, Pick Crafter successfully carves its niche within the genre of idle games. It's both a celebration of pixel games' aesthetic appeal combined with the addictive momentum that only top-tier clicker games can deliver. Whichever way you swing your pickaxe, it's undisputed that Pick Crafter is an arcade treasure trove waiting to be unearthed.
Pack your virtual pickaxe, miners! Your next big adventure lies within the glorious gem-filled caverns of Pick Crafter.
What are the best online games?