Piano Time 2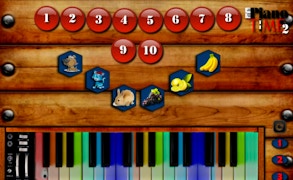 Piano Time 2
Welcome to the mesmerizing world of Piano Time 2, an arcade escapade that seamlessly merges the fun of music games and the thrill of piano games into one intoxicating mix. If playing the piano, learning, and having a blast are on your checklist, then this game is your one-way ticket to an adrenaline-packed musical journey.
Piano Time 2 is a Html5 game that explores the fascinating cosmos of tunes with compelling gameplay. The game skillfully plays on our love for music and takes us on a rhythmic adventure like no other. The piano isn't just an instrument here - it's your weapon, your guide, and your best friend, all rolled into one.
But wait! This isn't just a game for music enthusiasts. With its unique ability to amalgamate education with entertainment, Piano Time 2 becomes an enriching platform for young learners too. You're not just hitting ivory keys here; you're learning numbers, animals, and fruits in each heart-thumping session.
Each level brings new chords to master and new lessons to learn. Just when you think you've seen it all - bam! - there's a new melody to conquer or a new fact to memorize. It provides hours of endless entertainment making it perfect for everyone with a desire for enjoyment and learning in equal measures.
In conclusion, Piano Time 2 is more than just another addition to the broad continuum of music games. With its tasteful blend of melodic challenges and educative elements - it brings forth a fresh perspective in the landscape of piano games. Indulge in Piano Time 2 today and fill your moments with melodies that will resonate in your memory for times to come!
What are the best online games?
Tags