Piano Kids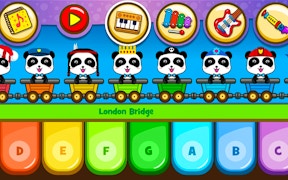 Piano Kids
Dive into the enchanting world of sound and color with Piano Kids – Music & Songs, a delightful offering in the genre of kids, arcade, music games, and more specifically, piano games. This game isn't just a ticket to funville for children but also a captivating journey of learning and exploration.
The game comprises of an alluring selection of colorful musical instruments ranging from drums to saxophones, trumpets to flutes, and even an exciting electric guitar. However, the star of the show remains the cheerful kids' xylophone and the vibrant piano. Each instrument is designed with precision and produces authentic sounds that can keep your tots engaged while they learn to create music.
Put together like a charming music box, Piano Kids – Music & Songs allows your child to interact directly with different sounds and melodies. Imagine sitting down with your toddler on a rainy afternoon, fingers dancing on the screen of your tablet or phone as you compose symphonies together! Games for kids have never been this musically appealing before.
The music game not only entertains but also educates. It is specifically designed to develop musical skills in children. As they tap and swipe their way through different songs and sounds, they unwittingly practice rhythm, tune recognition, and hand-eye coordination. It's an effortless way to introduce them to the magnificent world of music!
In conclusion, Piano Kids – Music & Songs is not just another run-of-the-mill kid's arcade game; it's a platform where learning meets entertainment. Piano Games are usually engaging, but this one takes it a step further by infusing education into every note that's played! If you're searching for an ideal blend of fun and productive screen time for your little one, you've hit the right chord with Piano Kids – Music & Songs.
What are the best online games?
Tags