Perfect Jump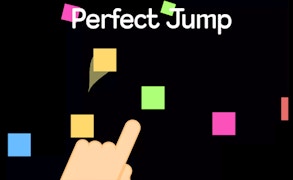 Perfect Jump
Description
Welcome to Perfect Jump, a delightful mix of simplicity and challenge that will keep you on your toes! This 2D game will engage your reflexes as well as your timing skills. Your goal: leap over oncoming obstacles by just a single tap on the screen. Your journey is never-ending, but will you be able to set a new record with each try?
How to play
The control scheme here is deceptively simple - just tap the screen to make the square jump. The real challenge lies in timing your jumps flawlessly to navigate through the quickly approaching obstacles. Try to maintain a steady rhythm, for each leap can either take you further or end your run!
Tips and Tricks
Patience and precision are key in Perfect Jump. Don't rush - take the time to get the timing of the jumps right. Remember, it's not about speed but how far you can go. So, focus on accuracy over haste and soon enough, you'll find yourself jumping with perfection!
Features
Rhythmical Gameplay: This game emphasizes rhythmic precision.
Straightforward Input: Just tap on the screen to jump.
Infinite Runner: The game does not have an endpoint so aim to beat your own high score!
Simplistic Graphics: Enjoy clean and minimalistic design that keeps gameplay in focus.
What are the best online games?