Pen Run Online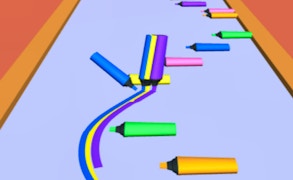 Pen Run Online
Welcome to the invigorating world of Pen Run Online, a brilliant concoction of arcade magic that will leave you pinned to your screen in awe. This isn't your typical running game, it's a thrilling leap into a playground of skill and agility that pays homage to the simpler things in life like pens and tables, all while subtly integrating elements of coloring games.
Imagine a pen, but not just an ordinary pen. This pen has been miraculously granted with the gift of motion, dashing across tabletops with seemingly unfettered agility. What makes this game even more interesting is its twist on traditional running games. Instead of having you control a character sprinting endlessly against backdrops, Pen Run Online takes an innovative approach by making you guide a running pen.
This fascinating game enhances the adrenaline-rushing experience provided by most skill games. Dodge obstacles like books and pen containers, a test of your reflexes and cunning that offers continuous excitement in each level. The anticipation builds as you inch closer to the end line, trying to grab as many extra pens as possible along the way.
However, it does not stop at being merely a great addition to running games. Pen Run Online also tiptoes into the realm of coloring games. As you slide your pen across tables, it subsequently leaves behind a trail of ink that becomes your unique aesthetic footprint in this virtual world, adding another layer of fun.
In conclusion, Pen Run Online is skillfully crafted arcade joy that fuses elements from running games and coloring games into one delightful package. It's addictive yet simple, tapping into familiar objects from our day-to-day lives and transforming them into sources of endless entertainment. A must-try for any avid gamer looking for their next thrill!
What are the best online games?