Paper Flight 2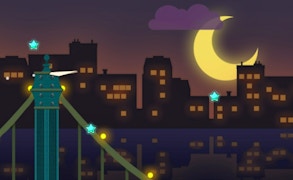 Paper Flight 2
Get ready to take flight in the innovative arcade game, Paper Flight 2. This engaging experience on kiz10.com propels you into a world of simple yet joyously compelling gameplay. If your interests soar in the sphere of flying games or airplane games, this is an adventure you would hate to miss!
Paper Flight 2 sweeps you off your feet and transports you into a realm where maneuvering a humble paper plane becomes a thrilling pursuit. Unlike other arcade games, this isn't about flashy visuals or intricate plots but about pure, simple fun. The game revolves around launching a paper plane as far as possible, each flight promising an opportunity to enhance your skills and improve vital in-game attributes such as speed and strength.
But Paper Flight 2 isn't just about soaring through the skies; it's also about mastering control. As one of those skill games that require finesse and strategy, each launch demands precision, power, and perfect timing. The further you glide, the higher your score. This dynamic creates an adrenaline-fueled race against yourself that keeps players coming back for more.
If you're on the lookout for something different, yearning for cool games that stray from the norm yet provide an abundant source of entertainment, Paper Flight 2 is undoubtedly worth a shot. An exclusive offering from kiz10 with many rewards up for grabs, this game truly elevates itself above its counterparts.
Show off your extraordinary gaming aptitude with Paper Flight 2 and ascend the leaderboard ranks! Remember that kiz10.com is your one-stop hub with plenty of free casual and adventure games, just waiting to be explored!
Fly high with Paper Flight 2 – because even paper planes deserve their moment in the stratosphere!
What are the best online games?