Papa's Donuteria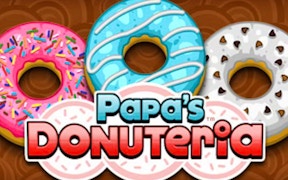 Papa's Donuteria
Description
In Papa's Donuteria, you are in charge of running Papa Louie's donut shop. Your tasks involve everything from taking orders, preparing the dough, frying donuts, and decorating them with a variety of frostings and toppings. The game truly tests your multitasking skills as you strive to keep your customers satisfied and your business thriving.
How to play
The game is controlled entirely with the mouse. Just click on the various workstations to perform tasks: take orders at the Order Station, mix dough at the Dough Station, fry donuts at the Fry Station, and add frosting and toppings at the Build Station. Keep in mind that each customer's satisfaction depends on how quickly you serve them and how well you prepare their order.
Tips and Tricks
Pay close attention to each customer's order and be sure not to mix them up. Always strive for perfection in every station. The better your performance, the more tips you earn. Upgrade your tools often as this will help streamline your tasks, improving efficiency, and ultimately enhancing customer satisfaction.
Features
Satisfy customers' unique donut orders for rewards.
Balanced gameplay that tests multitasking abilities.
Daily in-game challenges for extra tips.
A variety of upgrades available to enhance productivity.
Unleash creativity through fun donut decoration options.
What are the best online games?