Cooking Super Girls: Cupcakes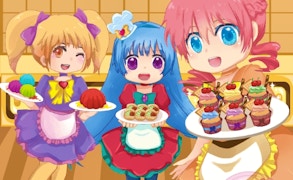 Cooking Super Girls: Cupcakes
Immerse yourself in the delightful world of Cooking Super Girls: Cupcakes, an enchanting cooking game that scores high on fun, creativity, and engagement. Designed with young girls in mind, it's a captivating addition to the universe of games for girls, especially those who harbor an affinity for cooking games.
In Cooking Super Girls: Cupcakes, players are tasked with dressing up the charming main character - our very own Cooking Super Girl. Both the dressing up phase and the cooking phase are interactive and delightful, encouraging creativity and imagination in every girl.
The gameplay evolves from merely dressing up our super girl to entering her magical kitchen full of sizzling surprises. The objective is not only to bake sweet cupcakes but also to make them extra delicious using Cooking Super Girl's unique superpower. Such a feature offers an exciting twist to traditional cooking games that will surely leave every little chef yearning for more.
The graphics are vivid and colorful, just like a sprinkle-topped cupcake that lights up a child's eyes. Sound effects and background music enhance the overall gaming experience by keeping the mood light and cheerful.
Cooking Super Girls: Cupcakes is not only a game; it's an opportunity for your child to embrace their creativity while learning something valuable. The baking process, although simplified for a kid's comprehension, indirectly imparts some basic cooking skills which can be a great stepping stone towards real-life culinary explorations. Furthermore, the superpower element gives a subtle nod to problem-solving and strategic thinking skills in children.
To wrap it up, Cooking Super Girls: Cupcakes is an engaging odyssey in the universe of games for girls, blending fun and learning effortlessly into a delightful gaming package worth investing your child's time into.
What are the best online games?