Papa's Cheeseria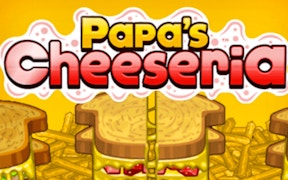 Papa's Cheeseria
Description
In Papa's Cheeseria, you immerse yourself in the fast-paced world of restaurant management. Your task involves cooking and serving mouthwatering grilled cheese sandwiches to an array of hungry customers. The game tests your multitasking skills as you balance between taking orders, preparing sandwiches with an assortment of fillings, frying sides, and serving impeccably grilled sandwiches for maximum customer satisfaction.
How to Play
The game is played using a mouse. Click to take orders from customers and prepare them just as instructed. As you progress through the game, you'll encounter various recipes and ingredients which may be overwhelming but don't fret! The game's intuitive interface ensures easy navigation through different tasks. To keep your customers happy and earn high scores, speed and accuracy are key.
Tips and Tricks
Keeping your customers happy is the ultimate goal in Papa's Cheeseria. Be quick but also pay attention to detail - a sandwich cooked too long or too short can lead to upset customers! Upgrade your kitchen with the earnings to make your tasks smoother and the service faster, hence increasing customer satisfaction.
Features
An engaging storyline with diverse characters.
Meticulous control over cooking – grill cheese sandwiches to perfection.
Earn tips based on your cooking skills – upgrade kitchen appliances with earnings.
A variety of ingredients for providing a unique cooking experience.
Daily virtual rewards and achievements that encourage continuous play.
What are the best online games?