Pancake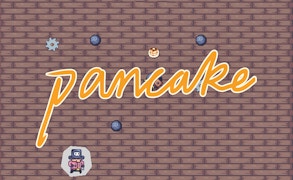 Pancake
Description
In the pixel-styled arcade game, Pancake, you're on a mission to collect as many pancakes as possible while avoiding oncoming obstacles. The game provides an exciting twist on classic arcade games, with a single click controlling all your movements. This thrilling escape game will test your survival skills and quick reflexes in a fun and flavorful environment.
How to Play
Pancake's game mechanics are simple yet challenging. All you need is one click or tap, this controls your character's leap forward to collect occasional pancakes and avoid various obstacles. The more pancakes you gather, the higher your score. However, be careful! One wrong move and it's game over. Progress by improving your timing and earning more points with each run.
Tips and Tricks
Mastering Pancake requires strategic judgment and perfect timing. Don't rush! It's essential to observe the patterns of the obstacles to predict their movement. Also, try to time your jumps precisely, so you collect every pancake without bumping into anything.
Features
Charming Pixel-Style Graphics: A nostalgic throwback to classic 8-bit games with a modern touch.
Addictive Gameplay: Simple controls yet difficult to master, making it a fun challenge for players of all skill levels.
Earnable Points: The pancake collection converts into points which lets you track your progress in the game.
Movable Obstacles: Unpredictable barriers add an extra layer of fun and challenge.
What are the best online games?