Outspell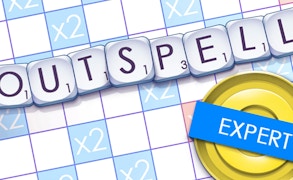 Outspell
If you are a fan of Scrabble games and love indulging in stimulating word games, then Outspell is the game for you! Positioned comfortably in the category of popular family games, Outspell offers a refreshing twist to the classic Scrabble experience.
In this enthralling online game, players find themselves in familiar territory, but with an exciting array of new challenges to unravel. The simple yet captivating gameplay offers limitless hours of intellectual fun. It's not just about spelling out words on a board; it's about strategizing, calculating points, and making smart decisions.
Outspell resonates with Scrabble enthusiasts due to its enticing blend of easy-to-grasp rules and challenging gameplay mechanics. Its welcoming interface combined with layers of strategic depth makes it an appealing option for both word game aficionados and newcomers alike.
The joyous competition among family members amplifies when you pull off a high-scoring word or strategically block your opponents' moves. The mad scramble for triple word scores brings the excitement levels up several notches. Outspell is more than just a game; it's an engaging contest that will test your lexical knowledge and strategic skills!
In conclusion, if you are seeking a satisfying blend of fun and challenge in your Scrabble games, Outspell is worth checking out! It won't just keep you entertained, but will also fuel your love for word games. A perfect choice for wholesome family games nights or solitary intellectual pursuits - Outspell guarantees fun-filled hours of strategic wordplay!
What are the best online games?