Otaho Bird 2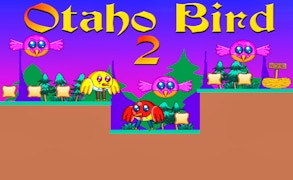 Otaho Bird 2
Description
Soar high in Otaho Bird 2, an immersive 2D platformer where players guide a brave bird on a daring quest. Navigate through treacherous terrain while collecting slices of bread, dodging bullets fired by rogue birds, and evading flaming hazards. With 8 challenging levels, this game tests your skills as the threat level escalates. This is the sequel to the beloved original "Otaho Bird" series.
How to play
Using your keyboard's directional keys, navigate your bird avatar through each level. Your goal is to acquire all slices of bread in each stage while avoiding obstacles like enemy bullets and rotating blades. Make it to the safety of your nest to progress to the next level. The challenge amplifies as you progress through this aerial adventure.
Tips and Tricks
Pick your paths wisely - not all are as safe as they seem. Stay vigilant for surprise attacks from airborne foes. Learn the patterns of rotating blades and time your movements accordingly to avoid lethal encounters. Be patient, rush less; it's better to reach safety a little slower than not reach at all. Each bread slice collected scores valuable points.
Features
Navigate through 8 intensive levels testing your skills and reaction time.
Duck, dive, and dodge incoming attacks from enemy birds trying to disrupt your journey.
Become engrossed in a captivating game world with engaging 2D graphics.
An array of challenging obstacles including flaming hazards and rotating blades adds complexity.
What are the best online games?