Oomee Rush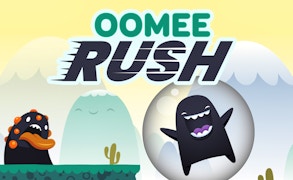 Oomee Rush
Description
Step into a fantastical world filled with captivating creatures in Oomee Rush. This playful game challenges you to assist our adorable hero, the Oomee, on his mission to collect as many fruits as he can. With lively animations and colorful graphics, every turn in this game presents an exhilarating adventure filled with gravity-defying leaps and dives.
How to Play
Playing Oomee Rush is simple but requires quick reflexes. Tap your screen to make Oomee jump and avoid obstacles. Keep in mind timing is key; the more precise your taps are, the better chance Oomee has at nabbing fruit and avoiding danger. Every collected fruit boosts your score!
Tips and Tricks
To excel in this game, focus on anticipating obstacles ahead of time. Keep a close eye on the pattern of appearing fruits; they're usually a sign of incoming hurdles. Additionally, learn to tune your reflexes, Oomee's survival depends on it!
Features
An engaging gameplay with a single tap control system.
Vibrant graphics that keep you entertained throughout.
A multitude of levels for endless fun.
A cute protagonist that adds charm to your gaming experience.
What are the best online games?