Old TV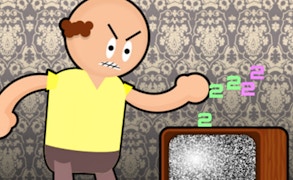 Old TV
Welcome devoted fans of arcade gaming, to the quirky realm of Old TV, a charming new addition to the clicker games, where destruction is your primary sport. Aptly named, this game will take you on a nostalgic journey back to the era of analog technology, with a fun, innovative twist.
In Old TV, your mission is quite peculiar yet immensely engaging: demolish an antiquated television set. Not just by idly clicking or tapping, but by purchasing various helpers that aid in this task. It's fresh entertainment, never seen before in the realms of classic tap games.
The gameplay is simple yet strangely addictive. Every tap degrades the television set more and more, until finally it collapses into a pile of pixel rubble. You can increase the speed and intensity of your taps by purchasing and utilizing various helpers. This aspect transforms Old TV from a mere clicker game into an alluring mix of strategy and idle gaming.
The complexity lies not merely in furiously tapping your screen but calculating how best to allocate your resources - do you invest in faster clicks or powerful helpers? And therein lies the beauty of this seemingly simple game; it's not just about mindless clicking; thought-provoking strategy comes into play too.
In conclusion, for those seeking a refreshingly unique spin on idle games, give Old TV a spin. Its blend of nostalgia-inducing visuals and strategic game planning ensures that each gaming session will be as exciting as it is engaging.
Old TV
: More than just a game – it's an exhilarating experience that marries nostalgia with modern-day
clicker games
. A testament to how far arcade gaming has come but still paying homage to its remarkable roots!
What are the best online games?