Nubik vs Herobrin's Army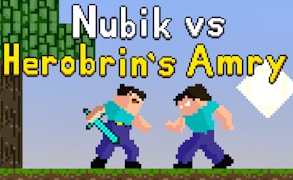 Nubik vs Herobrin's Army
Description
In Nubik vs Herobrin's Army, you face a dark and dangerous world filled with monstrous foes. Herobrine has kidnapped Nubik's brother and it's up to you to rescue him! Leverage your crafting skills to create dynamic weapons, constantly upgrading them to tackle your adversaries. This action-packed pixelated adventure game requires bravery, strategy, and dexterity to ensure victory.
How to Play
Control Nubik using the keyboard's directional keys and utilize the mouse for targeted attacks. Craft your weapons by collecting resources in the world. As you advance through the game, your weapons can be upgraded, making your battles against Herobrine's army more manageable. Progress through diverse levels of varying difficulty that test your combat and survival skills.
Tips and Tricks
Always be on the lookout for resources, they're crucial for weapon crafting. Know when to fight and when to dodge - not all battles are mandatory, sometimes avoiding conflict conserves health and resources. Keep investing in weapon upgrades; stronger weapons make later levels significantly easier.
Features
Action-packed gameplay: Engage in thrilling battles against hordes of enemies.
Crafting mechanics: Collect resources for creating unique weapons.
Weapon upgrades: Improve your weapons as you advance through levels.
Pixellated Adventure: Enjoy a classic gaming aesthetic reminiscent of Minecraft.
Diverse Levels: Progress through different stages each presenting unique challenges.
What are the best online games?