Noobcraft House Escape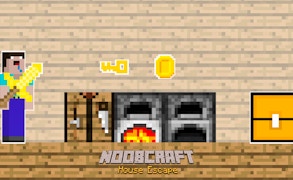 Noobcraft House Escape
Description
Immerse yourself in the pixelated world of Noobcraft House Escape. As a charming and underestimated noob, you are stuck in a house and the only way out is through a secret portal. Your mission is to find the golden key and coin hidden within the house. After collecting them, a magical portal leading to another world will be revealed. Can you navigate through this captivating arcade-style adventure and help Noob make his daring escape?
How to play
In Noobcraft House Escape, players are required to use their point-and-click skills to explore the house, discover hidden items and solve puzzles along the way. Locate the elusive golden key and coin that activate the secret portal. Each level represents a new room filled with challenges meant to test your problem-solving skills.
Tips and Tricks
In this game, observation is critical. Inspect each corner of the room carefully for hidden things that can be used or combined with other objects to solve puzzles. Remember, your mission is not merely about escaping but also about discovering all secrets within the house.
Features
Fascinating pixel-art graphics reminiscent of games like Minecraft.
Engaging gameplay packed with challenging escape puzzles.
A compelling storyline that drives player motivation.
An immersive adventure game set in beautifully designed environments.
What are the best online games?