Noob vs Hacker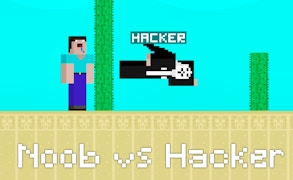 Noob vs Hacker
Description
Join the endearing noob in a thrilling pixel-based adventure game, Noob vs Hacker. Trapped in a treacherous desert, the noob's mission is to outmaneuver a cunning hacker to reach safety. Navigate through a labyrinth of challenges and mind-bending puzzles as you compete against the clock to collect keys and unlock doors. However, tread carefully around lurking monsters and don't dive into water, because our hero can't swim!
How to play
The game controls are straightforward. Use "WASD" or "Arrow Keys" to guide your character through the landscape on a PC. For mobile users, the game supports full touch control. Harness your agility with a unique feature - the double jump, which can be your lifeline against tricky obstacles and monstrous threats.
Tips and Tricks
To make your way successfully through this game, always remember that speed is crucial but so is caution. Be quick but not reckless. The double jump could be your saving grace, master it early on to avoid nasty surprises.
Features
A captivating 8-bit pixel art design that brings a nostalgic feel.
Tantalizing puzzles that test both speed and strategic skills.
A unique ecosystem of desert monsters adding an extra layer of excitement.
Alluring gameplay with intuitive controls suitable for all ages.
The enticing challenge of outsmarting an opponent - the hacker.
What are the best online games?