Noob vs Guys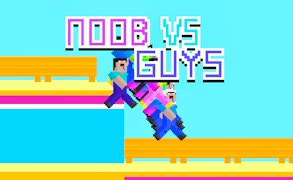 Noob vs Guys
Description
In Noob vs Guys, you are thrust into the shoes of a novice player battling an array of more experienced players. Surviving in this dynamic pixelated landscape demands tenacity, agility and speed. The concept is straightforward: stay alive and outrun your competitors in an ever-evolving course filled with obstacles. Every round is a testament to your quick reflexes, endurance and evasive manoeuvres as you attempt to outrun your opponents.
How to Play
To play Noob vs Guys, use the arrow keys for navigation, keeping an eye out for any incoming challenges. Speed is crucial, but so is strategy—know when to sprint and when to manoeuvre around obstacles. The more you advance, the more intense the competition becomes. To progress in the game, outlast your opponents in each round until you're the last man standing.
Tips and Tricks
Mastering the art of evasion can be a game-changer in Noob vs Guys. Don't just focus on running fast; develop your skill of weaving through obstacles efficiently. Finally, adaptability is key—each round presents new challenges; learning quickly and adjusting your strategy can give you an edge over others.
Features
Pulsating action in a pixelated landscape.
Fierce competition with seasoned players.
Dynamically designed courses with different obstacles.
Rapidly changing gaming environment that demands quick thinking and swift action.
What are the best online games?