Noob Miner: Escape from prison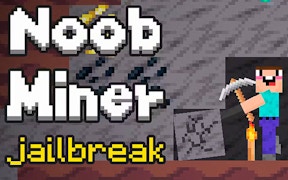 Noob Miner: Escape from prison
Immerse yourself in a pixelated world of underground exploration with Noob Miner: Escape from Prison. In this high-adrenaline fusion of pixel games, escape games, and mining games, you're thrust into the grimy shoes of Noob, a lovable character trapped in prison, charged with toiling away in the mine as he plots his daring escape.
The core gameplay mechanics are straightforward yet delightful. You'll mine for resources, forge stronger picks, munch on cakes for quick energy boosts, and even utilize dynamite to blow your way towards freedom; the unique blend of action and skill-based challenges make this adventure an intoxicating pixel quest.
A significant feature that sets this apart from other typical skill games is the presence of various traders. These characters imbue the game with a vibrant economy system, allowing you to buy and sell resources. Further adding to the complexity is the massive map replete with hidden treasures waiting for your pickaxe's swing.
Fans of escape games will admire Noob Miner's dual endings. The choice is yours: Will you opt for a stealthy exit or a high-energy blast? Either choice presents its own set of challenges requiring patience, cunning, and skillful mining.
Noob Miner lets players upgrade their titular character as well. This element adds another layer of strategic depth as players must decide whether to invest in immediate upgrades or save resources for a potential trader deal down the line.
All these elements combined make Noob Miner: Escape from Prison an adventure game that pushes boundaries and elevates expectations. Pixel lovers should definitely not miss out on this thrilling escapade. So, how soon will you manage to break free?
What are the best online games?