Ninja Turtles Coloring Book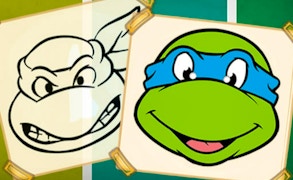 Ninja Turtles Coloring Book
Dive into the vibrant, action-packed world of the Ninja Turtles Coloring Book, a free online game that effortlessly blends the genres of ninja games and animal games into a uniquely engaging challenge for kids. This game, designed specifically with children in mind, ticks all the boxes for Games for Kids, putting a dynamic spin on traditional coloring games.
If your child is an avid fan of anime games and drawing games, they'll get hooked to this innovative amalgamation that catapults them into the thrilling universe of Ninja Turtles. Offering eight distinctive pictures to color, players race against time to infuse life into the scenes with 23 different colors at their disposal. There's always room for creativity - each image can be as realistic or as fantastical as your child imagines!
What sets the Ninja Turtles Coloring Book apart from other coloring games is its seamless blend with elements of ninja and animal games. The game draws you in from the first brush stroke, making it a standout among other online children's games. It pays homage to classic anime aesthetics while integrating unique challenges that stimulate cognitive skills in a fun way - making it ideal not just for entertainment, but for learning too.
The key highlight of the game is its feature allowing players to save their colored images. This acts as a trophy system that rewards creativity and perseverance - reinforcing the fact that each accomplishment is worth celebrating.
In summary, the Ninja Turtles Coloring Book game delivers a riveting gaming experience that combines elements from various categories like ninja games,animal games,coloring games,anime games anddrawing games. This merger does justice to every genre, providing an enriched gaming experience for kids who love spirited gameplay and artistic expression.
What are the best online games?