Ninja Frog Adventure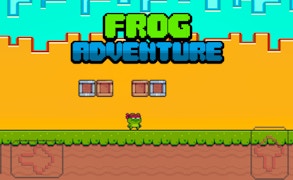 Ninja Frog Adventure
Embrace the thrill of platform games with Ninja Frog Adventure, an adrenaline-pumping game filled with action, mystery, and the agile acrobatics of a ninja frog. Drawing influence from beloved retro games such as Super Mario, this blend of ninja and animal games offers its own unique spin - creating a world where your reflexes are your best weapon.
In Ninja Frog Adventure, you'll find yourself jumping over long distances, crashing boxes, and collecting juicy strawberries to boost your in-game points. With its 8-bit charm reminiscent of classic mario games, it takes gamers on a nostalgia trip that truly embodies the soul of retro games. The graphics, specifically pixelated in the style of old-school pixel games, gives this platformer its own standout appeal.
The frog's not just hopping around aimlessly either - he's got his ninja skills to flaunt! Jump onto enemies to obliterate them, showing off your skills reminiscent of classic ninja games. Dodge sharp spikes and spinning blades that threaten to end your adventure prematurely. There's strategy involved too - not all boxes are beneficial to crash into, making this game an interesting member of Skill Games.
The game features five intriguing levels, each offering unique challenges sure to keep you on your toes. From dodging threats to leaping across chasms, every stage promises a different experience that will certainly keep you engaged. The journey is yours to embark upon.
Ninja Frog Adventure successfully brings together elements from various genres - be it animal games or skill-based ones. It really tests players' precision and quick thinking while providing a delightful throwback experience. So gear up and join the ninja frog on this electrifying adventure!
What are the best online games?