Ninja Adventure Game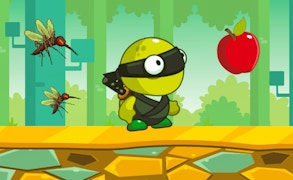 Ninja Adventure Game
Description
Explore the adventurous world of Ninja Adventure, a game that demands exceptional dexterity and agility. Your mission as a swift ninja is to navigate through numerous complex courses, brimming with surprising obstacles. While maneuvering through these challenges, your goal is also to accumulate as much wealth as possible. This game does not only promise captivating fun but also serves as a great tool to enhance your reflexes in thrilling ways.
How to play
In Ninja Adventure, controls are straightforward. Use the arrow keys or swipe the screen to guide your Ninja character through various obstacles. Jump over pits, duck under low-hanging obstacles, and dart past any oncoming dangers. Collect coins scattered throughout each level for bonus points. Continual progress will lead you to more challenging levels.
Tips and Tricks
Mastery in timing is crucial for success in Ninja Adventure. Knowing when to jump, duck or dash makes all the difference. Keep an eye out for hidden coins; they can provide a significant boost to your score. Don't rush - take the time you need to understand each coming obstacle and plan accordingly.
Features
Ninja Adventure comes loaded with numerous features:
Diverse and challenging obstacle courses.
Fun, intuitive gameplay that tests reflexes.
Progressive difficulty increases along with player ability.
An immersive adventure style atmosphere.
A variety of hidden rewards and bonuses for exploration.
What are the best online games?
Tags