Nina - Wedding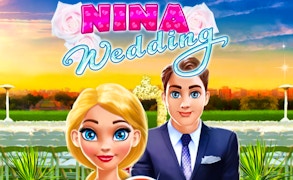 Nina - Wedding
Immerse yourself in the charming world of Nina - Wedding, a delightful game that perfectly combines dress up games, makeup games, and Hairdresser Games in one fun package. This game is a perfect pick for those search tags - tailor-made for the fashion-savvy young crowd, with a keen interest in style and design.
Nina - Wedding is all about helping the lovely Nina prepare for her dream wedding. It showcases an enchanting storyline that captivates audiences of all ages, particularly our blossoming gamers from the Games for Girls category.
The dress-up component of this game is absolutely fabulous! From picking out the perfect white gown to selecting complementary accessories, players will be enthralled by the vast array of choices. Nina's wedding apparel can range from classic elegant designs to modern chic styles, offering enough diversity to match every player's unique taste.
Moving on to makeup, players can explore their creative side by giving Nina a complete makeover. With an extensive palette of eyeshadows, lipsticks, and blushes to choose from, players have full control over Nina's bridal look. The makeup game aspect serves as a digital canvas for young stylists to experiment and express their artistic flair.
Let's not forget the engaging hairdressing element! From braids and buns to curls and waves, there are countless hairstyles that players can try out on Nina. This feature adds another layer of creativity and fun, making it an essential fixture in our Hairdresser Games tag.
In conclusion, Nina - Wedding is a captivating fusion of dress-up games, makeup games and hairdresser games. It offers hours of adventurous playtime suitable for girls who enjoy creative gameplay in an enchanting wedding setting. If you're looking for superbly interactive Games for Girls, then this is an absolute must-try!
What are the best online games?