Nina - Ballet Star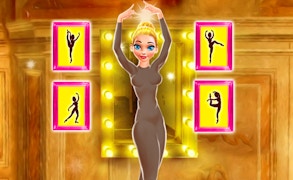 Nina - Ballet Star
Get ready to leap into the fantastic world of Nina - Ballet Star, a captivating game for girls that combines the glamour of dress up games and the brain-boosting power of memory games. Whether your child is a budding ballerina or just loves a good creativity challenge, this game will keep her hooked from the opening curtain to the final bow.
In Nina - Ballet Star, players help star ballerina Nina prepare for her big performance. The dance practice feature is a brilliant spin on traditional memory games, challenging players to remember and reproduce complex dance sequences. It's not just entertaining; it's an excellent way to sharpen your little one's focus and recall abilities.
But what would a games for girls' title be without some fabulous fashion? In Nina - Ballet Star, players can design their very own stage-worthy costumes. This exciting element harks back to the classic dress up games but with an extra sprinkle of sparkle. From selecting swishy skirts to matching mesmerizing makeup looks, your child can let their creative spirit pirouette wildly.
What makes Nina - Ballet Star standout in the vast landscape of kids' games is its successful blend of fun and learning. It delights with its vibrant animation and engaging gameplay while also encouraging cognitive development through its memory-enhancing tasks.
In brief, if you're on the hunt for engaging, imaginative, and educationally rewarding games for girls, look no further than Nina - Ballet Star. Enjoy absorbing dance moves, thrilling dress-up fun, and mesmerizing makeup games all wrapped up in one captivating package. With Nina as their guide, your kids are destined for a standing ovation!
What are the best online games?