Nina - Back To School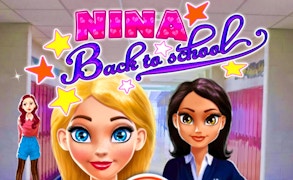 Nina - Back To School
Calling all budding fashionistas and beauty enthusiasts, the perfect gaming enchantment has arrived, tailor-made for your unique tastes. Enter the wonderland of Nina - Back To School, a mesmerising playground that combines elements of Games for Girls, Dress Up Games, Hairdresser Games, and Makeup Games.
Every school day starts with the usual morning routine, but in this captivating game, early mornings transform into creative sessions akin to a fashion runway. The mission? Help Nina prepare for a glamorous party at school and give her a stunning makeover.
The game play for 'Nina - Back To School' is intuitive and engaging, encouraging players to dive into their imaginative depths, making it the ideal fit for those engrossed in dress up games. From selecting voguish outfits to mixing and matching trendsetting accessories, it's akin to having your personal fashion studio.
However, what truly steals the show are the delightful aspects of Hairdresser and Makeup Games. Each hair strand can be a canvas to showcase your hairstyling prowess or even experiment with fun makeovers. From bold hues to intricate braiding styles – you play the hair magician! As for makeup, whether it's a subtle look or an eye-catching one – you're in charge.
In essence, 'Nina - Back To School' is more than mere fun; it offers a platform to express oneself creatively. So ladies, put on your stylist hats and allow Nina's transformation be your masterpiece! This game is an undeniable treasure trove in the realm ofGames for Girls.
What are the best online games?